5 wire wireless control for Kipor generator
Wireless Control > Kipor Generators
Kipor generator compatible wireless ignition key switch replacement.
(Direct replacement of Kipor ignition key switch part # JK427)
Simply unplug your Kipor ignition key switch and re-connect the female connector part to
our controller 5 pin plug. Leave the controller outside the metal canopy to achieve better reception.
The controller comes with 1m cable and 5 pin plug pre-wired.
The 5 pin plug terminals can be easily re-arranged if required.
Please observe the shape of plastic shell, it must be matched to your generator 5 pin female connector.
If not sure, please take a good photo of that socket and email us.
Suitable for
KDE6700T KDE6700TA, KDE6700TA3, KDE12STA KDE12STA3 KDE19STA KDE19STA3,
IG3000 and many more with 3 or 5 wires
connected to the 5 pin plug.
IMPORTANT NOTES
If you have an ignition key switch with only 3 wire connection: please remove terminal (#
4
) (blue wire) from the plastic plug shell and
re-connect to generator starting battery negative.
Make sure your 5 pin female socket has the following connections listed below:
3
: Starter On + 12V input
4
: Battery negative supply (remove blue wire terminal from the plastic shell and reconnect to batt. negative
if terminal 4 is not available or not connected to battery negative)
5
: Linked to Batt. negative when generator is stationary (or not used)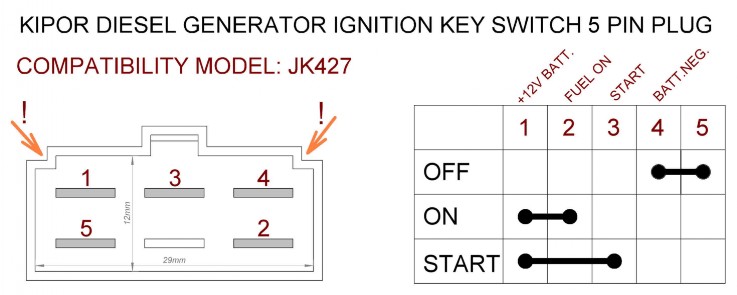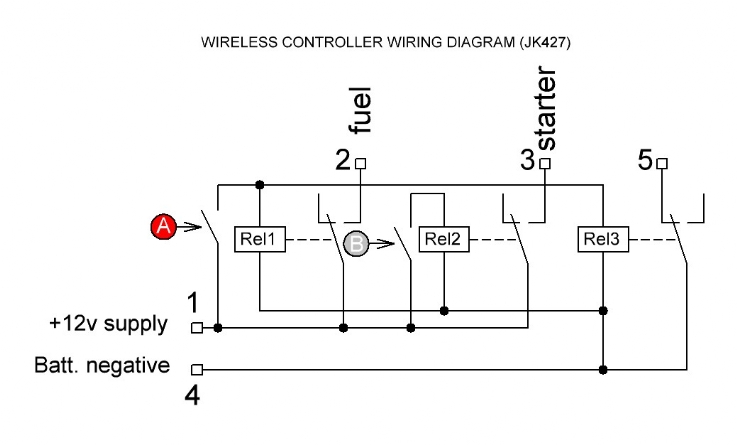 OPERATION
1. Press button "A" on the key fob for 1 sec. This will activate the fuel relay and make the generating set ready to run.
2. Press and hold button "B" until the generator starts.
To stop the running generator press button "A" again.
The working diatance of the key fob is approximately 100m in open area.
Should you wish to upgrade or add an extra powerful key fob to your order, please contact us first.
The standard wireless kit has 1 key fob (up to 100m) as pictured.
If your generator socket has a different wire arrangement, please don't hesitate to contact us.
We would be happy to help!