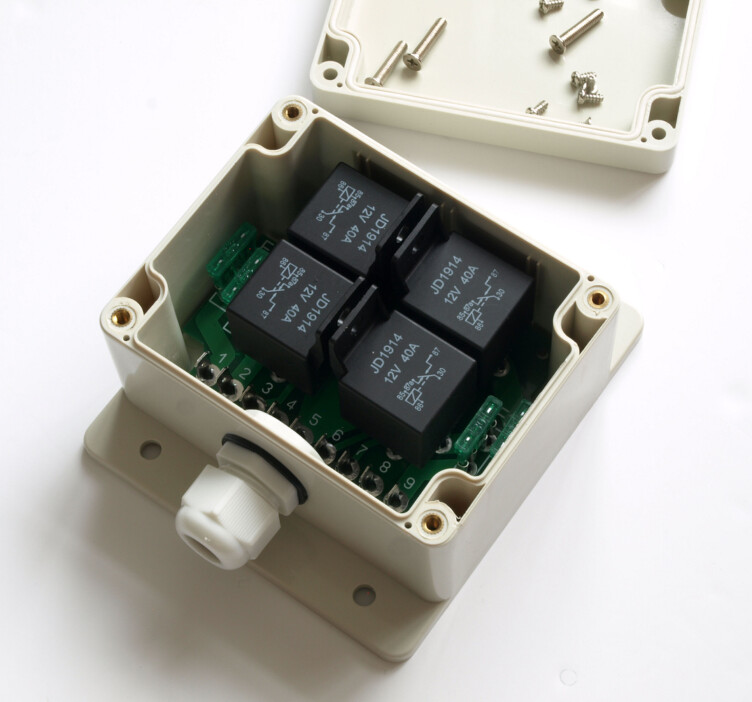 Note:
number of relays fitted can be selected during checkout.
This power relay box can be used as an end-of-line generator engine management device to power up the starter motor, fuel solenoid valve, glow plug and any other extra device fitted (for instance load control relay). Each relay output is protected by removable 30A fuse and could be supplied as 2x relay, 3x relay or 4x relay box. We will reduce the number of terminals and fuses to match the number of relays ordered (when ordered less than 4 relays). Please select the number of relays fitted in the box from the drop down menu during checkout.
The box is a weatherproof type, size: 115 x 90 x 68 mm with a cable gland fitted for your convenience.
All inputs (1...10) are 6.3 mm spade type connectors. Each relay can be powered up by applying +12V to 3, 4, 7, 6 terminals.
Please use the wiring diagram shown below to perform correct fitment. Any questions-please don't hesitate to ask. We can customise these relays as N/C contact output if required.