AECM105-IP67-[2G/3G/4G]
Auto start modules
Important note: currently our AECM105 controllers support the following bands:

EMEA countries (including Europe)
LTE FDD: B1/B3/B7/B8/B20/B28A
WCDMA: B1/B8
GSM: B3/B8
Australia
LTE FDD: B1/B2/B3/B4/B5/B7/B8/B28
LTE TDD: B40
WCDMA: B1/B2/B5/B8
GSM: B2/B3/B5/B8
Please make sure your network provider supports these bands. If not sure please contact us, we will do our best to help.
(For North America customers: please contact us prior to order, we will verify your network bands first)
Description
The Model AECM105 is a Multi-attempt Automatic Engine Control Module designed to automatically/remotely from mobile phone/ and manually start and stop the engine. It will indicate the operational status and fault conditions, automatically shut down the engine and indicate the start engine failure by a flashing "ST. FAIL" LED as well as informing operator about an issue via text message. Other functions and possible engine fault conditions are also visually shown via a set of LEDs located on the module.
AECM105 is designed to receive start/stop commands from a CS (Control Server) mobile phone number which has been initially registered with AECM105 or via direct call from that number. AECM105 is capable of storing up to 10 CS numbers (index 0~9) giving you and your colleagues an equal opportunity to control your engine from any place on earth where mobile network is available. You won't be charged for a call from CS phone number because the AECM105 module will hang up incoming call immediately after recognizing you as a valid registered operator.

AECM105 is fitted inside a polycarbonate IP67 rated enclosure. Wired remote control is also available through terminals 5 & 13 [using ordinary maintained N/O switch]. Wireless local control via a key fob may also be available

as an option (£22.00 per key fob). Programming is possible via specially coded SMS or PC. All functions and method of programming are described in PDF manual.
What you can do as an operator:
Text "start" to start your generator remotely. After successful start you will receive "engine running" text message.

Text "stop" to stop your generator remotely. You should then receive "engine not running" text message.

If the engine failed to start - text "status?" to check the state of the engine.

In this situation you may receive a reply: "engine not running. status:alarm" which means the engine couldn't start this time.

Text "stop" to cancel previous "start" command, wait for about 1 min and try to start the engine again by texting "start". If no success please consider to come and see the generator to identify the problem (low battery, low fuel etc).
As an extra option we can provide the battery monitoring system built-in (BVS) which will be monitoring your engine starting battery voltage and informing you via text message should it falls below the set threshold.
AECM105 module has a wide range of programmable timers on-board:
5x second timers with 0....65535 sec range

5x minute timers with 0....65535 min range

5x daily timers with 0:0....23:59 range

7x weekly timers

7x monthly timers

Each timer can start, run and stop the engine. We can assist you with setting up these timers if required.
The module comes with printed user manual, wiring diagram, programming cable, software (please download it from the link shown in PDF manual) and aerial.

Please don't hesitate to contact us for a good and friendly advice.

Read more...
Key Features
IP67 rated enclosure

Remote / Local start and stop (2 wire start-stop default function)

Low oil pressure shut down

High engine temperature shut down

Manual / Remote shutdown by pressing emergency stop push button

Over speed shut down

Under speed shut down

Self-regulated duration of each attempt
Add the required feature or item to your AECM105 controller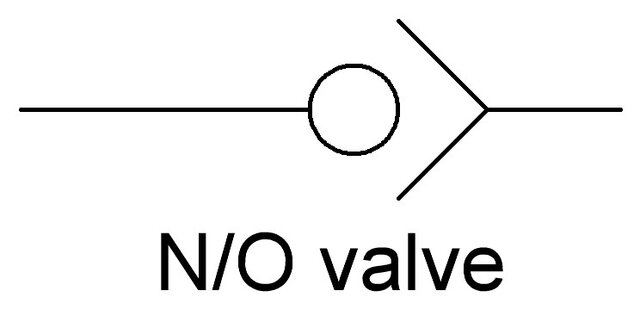 If your generator fuel solenoid valve is normally open type-please select this option in order to receive a correctly manufactured and programmed control module which will be able to operate these devices.
Tip: Normally Open fuel solenoid valve doesn't require any power to start and run the set, however it has to be powered up for about 5-15sec to cut the fuel off and stop the engine.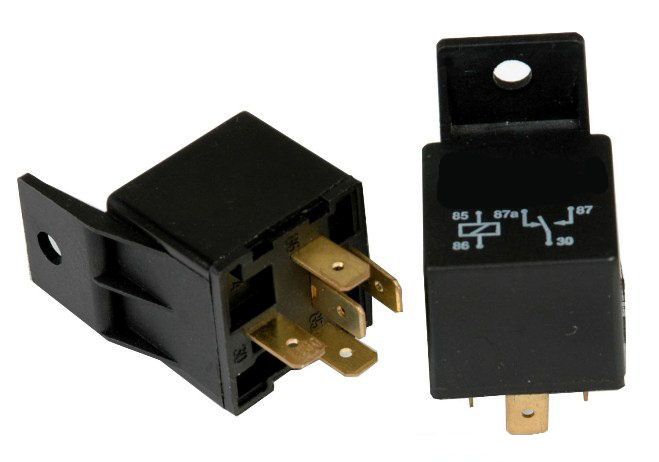 40A External power relay
Select this option if your generator or engine doesn't have any slave relays fitted. Many of the generator valves and solenoids have high currents and it may become necessary to "buffer" the control module against harmful currents.
Please select the right quantity of power relays: if you order a basic control module you would possibly need only 2 power relays to operate a starter motor and fuel solenoid. Select 3 power relays if pre-heat control is also included into your order.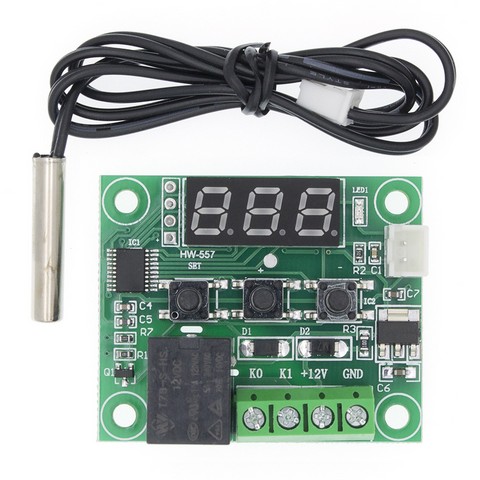 This is an incredibly versatile yet highly
functional thermostat controller. With
this module you can intelligently control
power to most types of electrical device
based on the temperature sensed by the
included high accuracy NTC
temperature sensor. Although this
module has an embedded
microcontroller no programming
knowledge is required. 3 tactile switches
allow for configuring various parameters
including on & off trigger temperatures.
The on board relay can switch up to a
maximum of 240V AC at 5A or 14V DC
at 10A. The current temperature is
displayed in degrees Centigrade via its 3
digit seven segment display and the
current relay state by an on board LED.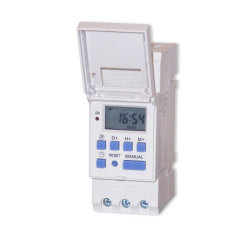 This device allows to start and stop your generator within 17 pre-set time slots throughout the whole week.
Quantity Discount available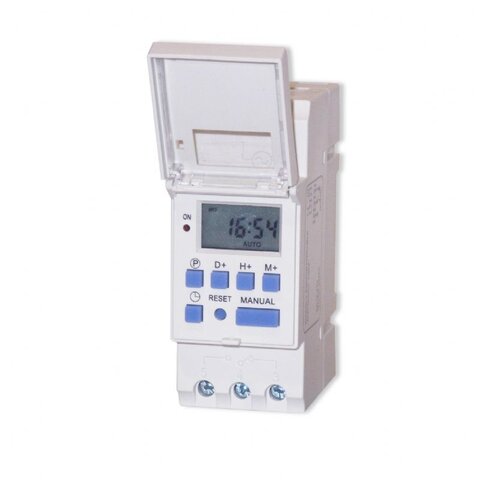 This device allows to start and stop your appliance within 17 pre-set time slots throughout the whole week.
Quantity Discount available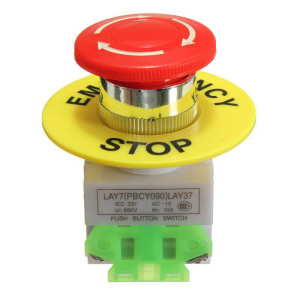 Emergency stop switch push button with 1 normally closed and 1 normally open contacts
Built-in screw-type connecting terminals
Rated Insulation Voltage (Ui) : 600V
Thermal Current (Ith):10A
Mushroom Diameter: Approx.1.6inch / 4cm
Size (L x W x H): Approx.2.8 x 1.4 x 1.2inch /7 x 3.6 x 3cm
Material: Plastic and metal
Button Color: Red
Note: Reset by turning the button as the arrows show and don't turn inversely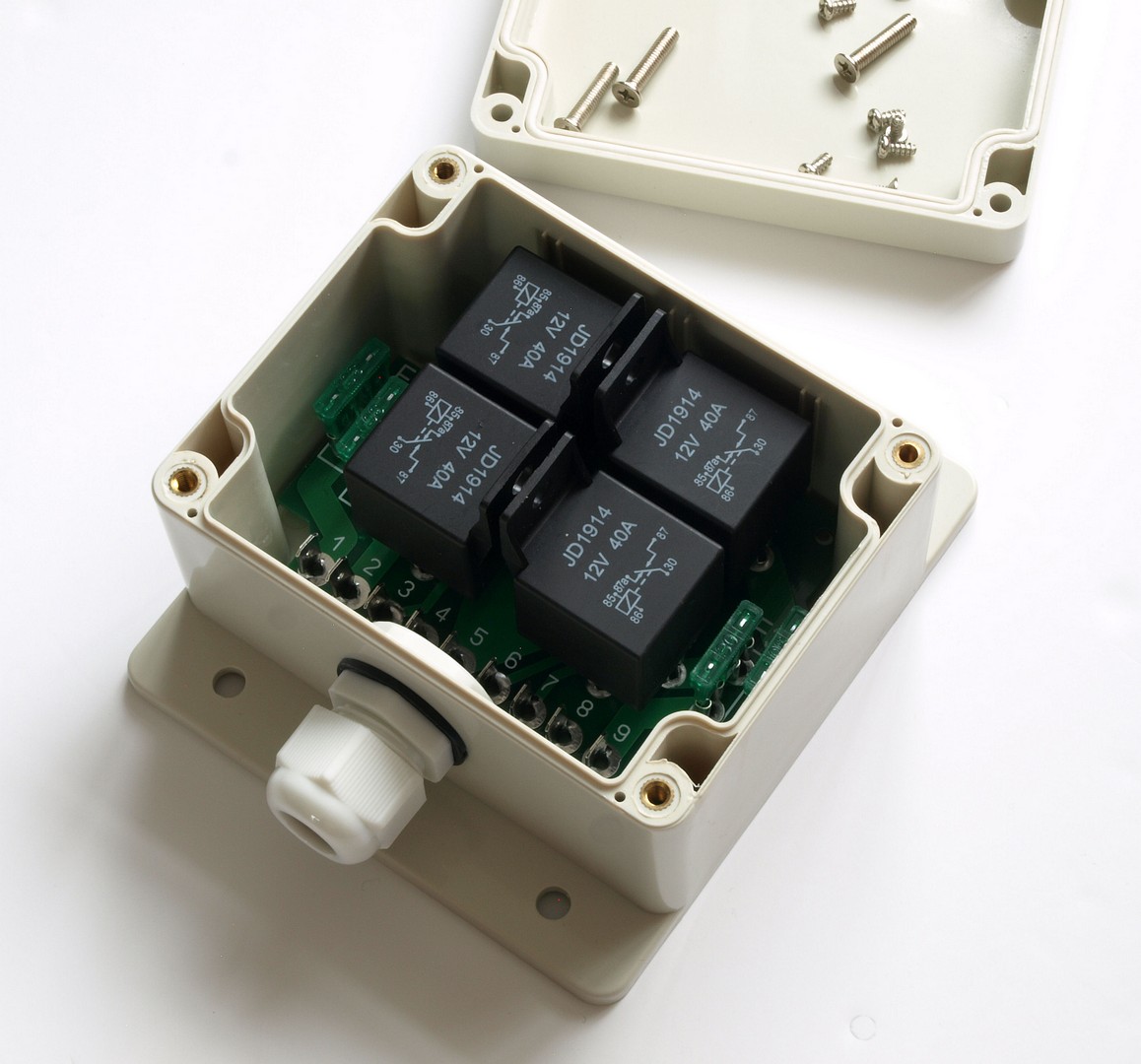 This power relay box can be used as an end-of-line generator engine management device to power up the starter motor, fuel solenoid valve, glow plug and any other extra device fitted (for instance load control relay). Each relay output is protected by removable 30A fuse and could be supplied as 2x relay, 3x relay or 4x relay box. We will reduce the number of terminals and fuses to match the number of relays ordered (when ordered less than 4 relays). Please select the number of relays fitted in the box from the drop down menu shown above.
The box is a weatherproof type, size: 115 x 90 x 68 mm with cable gland fitted for your convenience.
All inputs (1...10) are 6.3 mm spade type connectors. Each relay can be powered up by applying +12V to 3, 4, 7, 6 terminals.
Please use the wiring diagram shown below to perform correct fitment. Any questions-please don't hesitate to ask. We can customise these relays as N/C contact output if required.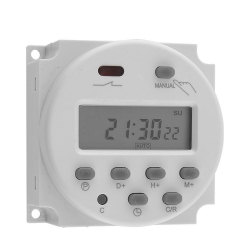 This device allows to start and stop your generator within 17 pre-set time slots throughout the whole week.
Quantity Discount available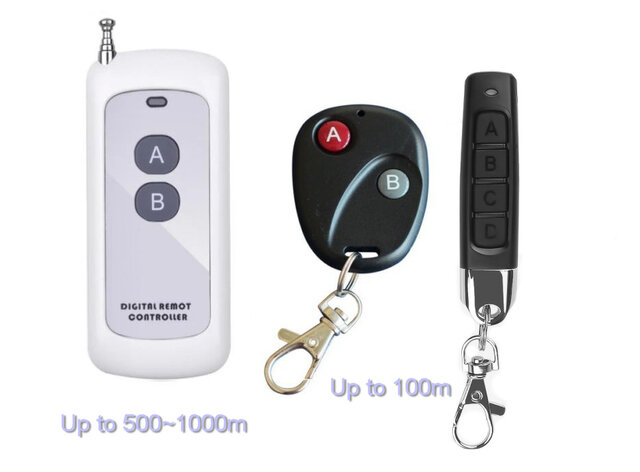 This key fob will be paired to the Auto Start Control Module you would like to order from us. This key fob cannot be sold separately from the Auto Start Control Module! The actual working distance may vary and depends on working environment.