HONDA EU70is Auto Start
Auto start modules
(AECM103FBSL comes without Honda cable unless ordered from section "Extra items / features" shown below).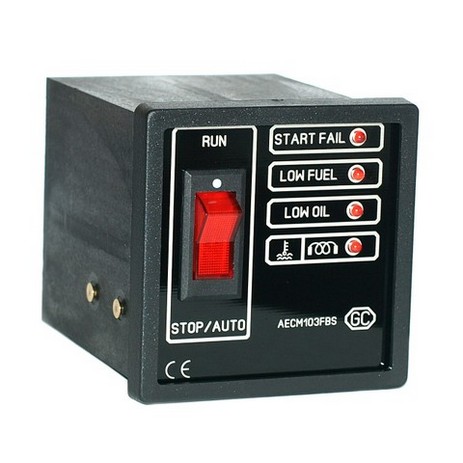 The Model AECM103FBSL is a microprocessor operated Automatic Engine Control Module designed to automatically and manually start and stop the HONDA EU70is generating set. It will indicate the operational status and fault conditions, automatically shut down the engine and indicate the start engine failure by a flashing "START FAIL"LED on the front panel. Other faults are indicated by steady LED.
Operation of the module is via rocker switch mounted on the front panel with AUTO/STOP and and RUN positions. Remote control of the module is via
terminal 1 or a key fob (optional).
Remote wired / Manual start and stop (start from the ATS, temperature sensor switch, Humidity switch, manual remote switch, etc)




"FAIL TO START" generator shut down




Very low power consumption in stand-by mode (10mA max)




All parameters are user configurable (prior to order)




No AC power required to function (new generation of AECM)
Optional Features
(available from the section "Extra features/items" shown below)
The Honda cable with RC 8 pin connector fitted.




Wireless start / stop function (key fob control). Allows to control the Honda engine from the distance.

BVS (Battery Voltage Sensor). This function allows the controller to monitor the battery voltage and start the Honda engine automatically upon registering the (LVT) Low Voltage Threshold (11.8V default figure). The BVS will automatically stop the Honda engine when the battery voltage becomes equal or higher than (HVT) High Voltage Threshold (13.8V default figure). These thresholds are user adjustable. The maximum controlled voltage is 30Vdc.




24/7 Digital timer allows to automatically start, run and stop the Honda engine according to its schedule.
Add the required feature or item to your AECM103FBSL Honda controller
AECM103FBSL Honda EU70is Wiring Diagram