HONDA EU65is Auto Start
Auto start modules
Model: AECM103FBSL for Honda EU65is (comes without Honda cable unless ordered from table "A" shown below)
Compatible with the following models that have electric start and auto choke:
EM3800SX
EM5000SXK2
EM6500SXK1
EM5000is
EM7000is
EU6500is
EM4000SX
EM5000SXK3
EM6500SXK2
EM4500CXS
EM6500CXS

Instructions:
Click "Add to Cart" button, then "continue shopping" button located on the "Shipment and payment choice page", select and add some extra features or items available for this controller to the cart (see table A below).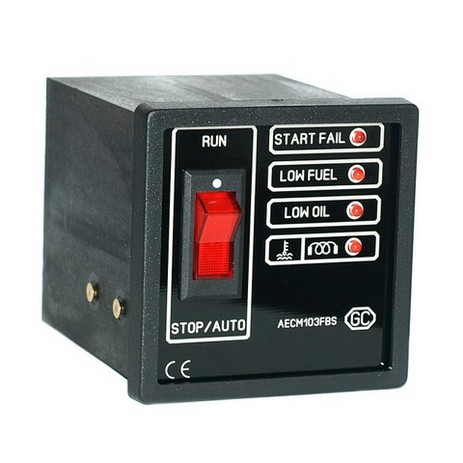 AECM103FBSL for HONDA EU65is / EM5000is / EM7000is
(Also fits EM3800SX, EM5000SXK2, EM6500SXK1, EM5000is, EM7000is, EU6500is, EM4000SX, EM5000SXK3, EM6500SXK2, EM4500CXS, EM6500CXS, EM4500CXS2 - EM5500CXS2) and more with 6 pin RC socket fitted.


Description
The Model AECM103FBS lite is a microprocessor operated Automatic Engine Control Module designed to automatically and manually start and stop the HONDA eu65is and similar generating sets. It will indicate the operational status and fault conditions, automatically shut down the engine and indicate the start engine failure by a flashing "START FAIL"LED on the front panel. Other faults are indicated by steady LED.
Operation of the module is via rocker switch mounted on the front panel with AUTO/STOP and and RUN positions. Remote control of the module is via
terminal 1 or a key fob (optional).
Key Features
Remote / Manual start and stop


"FAIL TO START" generator shut down


Wireless start / stop (optional)


Very low power consumption in stand-by mode (10mA max)


All parameters are user configurable (prior to order)

Table A

Optional Features/Items

Item

Price

GBP

Add to current order

Multi-core cable with Honda 6 pin plug


38.99

29.00

24.00

Wireless start / stop
remote control (key fob)

(comes without battery)


from 22.00

12V 1A Lead acid trickle charger


10.00